Jackpot's July joiners!
July has certainly turned up the heat but we've got some fantastic additions that you can cool off with. These hot video slots are here to delight and we had some great fun trying them out. Which of these might tickle your fancy? Feel like a trip to a scorching desert and its glimmering golden sands? Perhaps you're fired up for a rock concert that will blow your mind! We've got no shortage of fantasy since you can visit a wizard's castle or the lair of fearsome dragons. Check out some of our fiery July joiners described below or go straight to the games library here to browse yourself.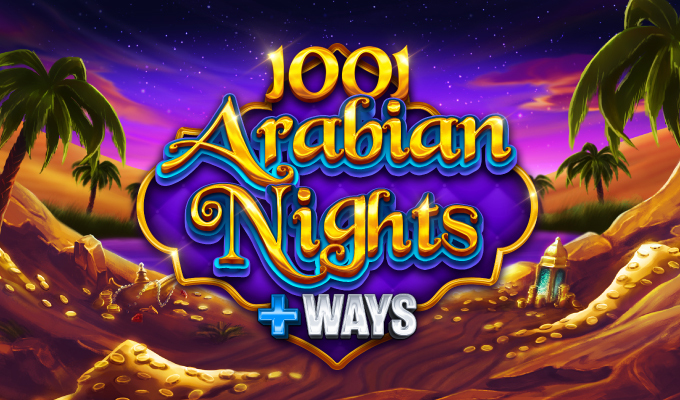 1001 Arabian nights
Gold awaits beneath the shimmering desert sands! Will you venture out to the scorching oasis for a chance to find some treasures? Well this feature loaded game will keep you entertained for hours. Sultans, princesses and thieves are just some of the characters that could help you find some of the riches moving around these hot Arabian nights!

Cascade Win and Spin Bonus - To trigger the "Win and Spin" bonus, players must land 6 or more of this symbol in any position on a single screen. The "Win and Spin" symbols will show a cash value that represents the size of the Jackpot that can be won in the bonus game. Jackpots are split into Mini,Major or Minor Jackpots.

Mystery Symbol When this gold palace doors symbol lands, it will randomly turn into a winning and highest paying out symbol!

Fortune Spins Gambles - When you engage the gamble game mode, and you win 5x or more your stake, you will trigger the Gamble feature. When this happens, you will be presented with 2 separate spin options. 1 wheel allows you to spin for a chance to increase your winnings or to win some free spins alongside the cash that triggered the feature

With all this in mind, are you ready to head for the sun scorched desert for a chance to discover? If you are, click here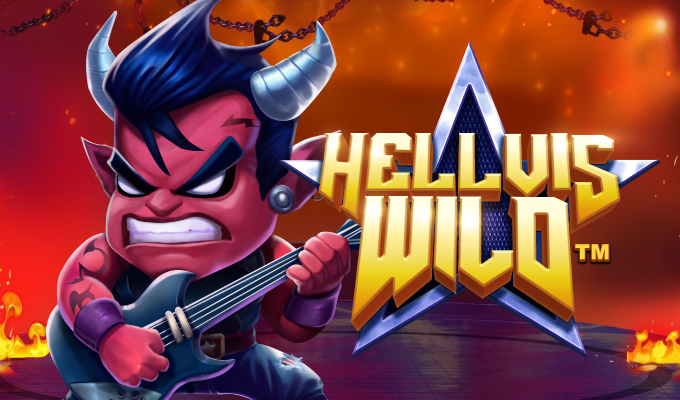 Hellvis Wild
The King of Rock n' Roll n' damnation is here with a concert like no other! You've never been to a gig like this. The little devil is ready to shred on his guitar in the bottom corner and should you see him playing the guitar, you could be about to land an awesome result! How many albums do you think you can land? Maybe you'll go platinum together!

Dual Wild Hellvis Wild features 2 different kinds of wilds represented by the Silver album and the Golden Album! The Silver album behaves like any other wild and will transform into any symbol except a scatter or the golden wild. The Golden Album is the golden wild, and it works a little differently. Whenever the golden album lands, the game will automatically change to free spin mode!

Free Spins Landing 3 or more scatter symbols will trigger a number of free spins. Getting 3,4 or 5 scatters on a single screen will get you 7,11 or 15 free spins respectively. Getting more scatter symbols during Free Spin means that you'll earn extra free spins. The Golden Wild also brings in an interesting little feature here. Every time a Golden Wild hits or touches on a reel, the multiplier factor of the Golden Wild on that specific reel will get a +1 increase for the remainder of the free spins round!

Buy Spins You can buy a round of free spins for 100x your current stake and you'll enjoy all the bonus features of a free spins round triggered by the scatter symbols. During the Free Spins feature, the RTP remains at the high 96.1% RTP!

Calling all metal heads that are looking to rock out! Head over to Hellvis Wilds for a headbanging good time here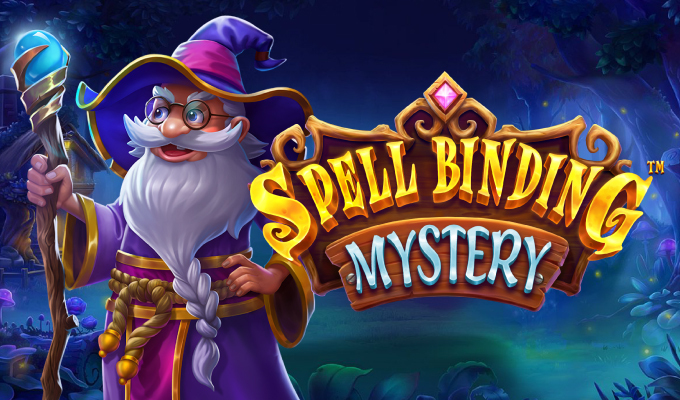 Spellbinding Mystery
Weave a spell or two with this witty wizard and he'll reward you with cash! Spellbinding Mystery continues to become more and more popular and we can see why. While not exactly brimming with features, the game has been cleverly put together to result in a fast, action packed thrill ride.

Mystery Symbol - A bright little star is here to surprise you as this wild is waiting in the wings to change into a winning symbol for you!

Scatter Symbol - Landing 3 or more of the scatter symbols and you'll trigger 10 free spins! These free spins are a fantastic way to rake in some more winnings, get additional free spins and will also stake up multipliers. During this mode, wherever the Mystery symbol lands will be marked. At the end of the free spins mode, all the marked locations will be turned into a mystery symbol. Additionally during free spins mode, whenever a Mystery Symbols lands on a slot that has not been marked by a previous symbol, the system may randomly award an additional free spin to you.

With a chance to win up to 10,000x your stake and a straightforward gameplay, click here if you would like to take a chance with this wily wizard.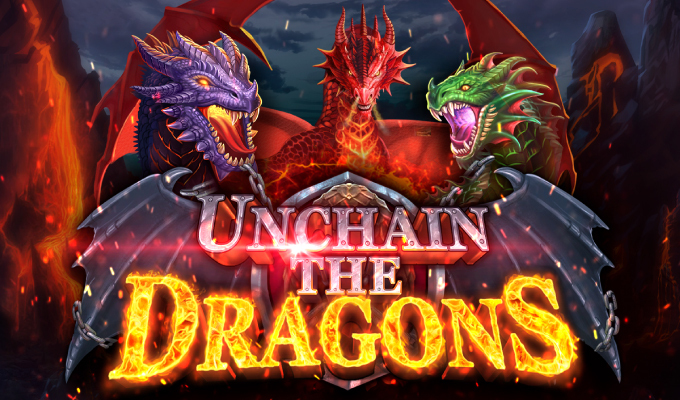 Unchain the Dragons
Beware these fearsome and fiery beasts! Dragons have taken to the skies and this could be your chance to snatch some of their golden horde. Release their chains and watch them soar!

Moving Wild Here's a wild symbol that is a bit different. While just like any other wild, this will change into a symbol that would payout. However, instead of this coming down on the reels with each spin, a moving wild will move 1 place upwards upon each spin. The position of the wild can be slightly adjusted according to the stake, so changing the stake will move the wild, but changing the stake back.

Valahd Feature Watch the skies! A red dragon may swoop overhead at any time during a base game or free spins and turn a random symbol into a Wild! This is alongside the Moving Wilds that could already be on your screen.

Dracarys Feature When the red dragon lands on a wild, the Dracarys feature is triggered which means that all spots adjacent to the red dragon will all be instantly turned into wilds!

Unchain the Dragons Free Play If you land 3 or more scatter symbols the game will award you 15 free spins. During free spins, the moving wilds will be reset however you can land more scatters to stack! So you can keep racking up the free spins if you can unchain the dragons!

With a 96.24% RTP and some fantastic features, Unchain the Dragons is an action packed slot that is attracting attention for all the right reasons. If you want to try venturing out to this land of dragons, click here.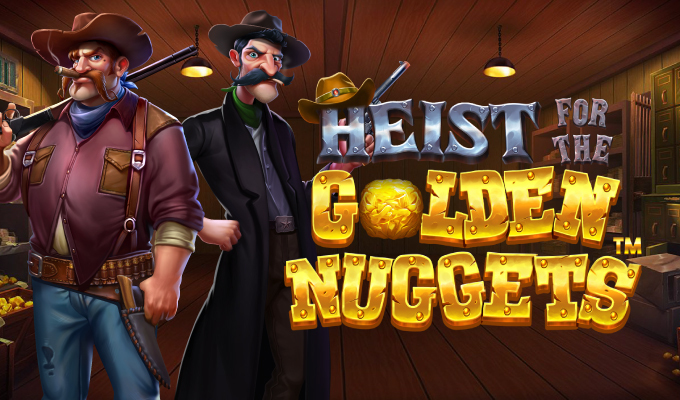 Heist for the Golden Nuggets
There's gold in the mines out west, but you might find your luck in the saloon's vault! A big golden nugget is sitting inside this desert watering hole and you can try your luck to make off with it! There's a few shady characters around the place but they could help you win some cash!

Free Spins Some fantastic free spins can be found and they could be an opportunity to really haul off that gold! The nuggets you drop in this round will all stack up into a pile for you to exchange for cash.

Once you trigger the free spins round, one of the higher paying symbols is randomly picked to be the Free Spins Special Money symbol. During the free spins round, whenever this special symbol lands, each symbol will take on the same value as the Nugget Value Meter. If you land at least 3 money symbols on the 1st, 3rd and 5th reels then you'll be awarded an additional 5 free spins!

With a chance to win up to 5,000x your stake, if you're ready to head west and try to haul off some golden nuggets, then click here.
If last month wasn't hot enough, these piquant video slots are sure to turn up the heat and the excitement! We've handpicked only the most fun and popularly played video slots to ensure an awesome experience. We had a blast trying the above out and we wouldn't be surprised to hear you did too! If you're looking for our full library then you can click below.