The Winners Of The 5 Biggest Lottery Jackpots In History
Everyone wants to be a lottery winner, and for most of us, a few million would do the trick. But every now and again a jackpot comes along that makes your eardrums implode from the sound of jaws across the world simultaneously hitting the floor.
All 5 of the biggest lottery jackpots in history have come from the United States, and you can bet on these featured lotteries at Jackpot.com. Let's take a look at the top adrenaline-pumping payouts and the lucky winners who dared to dream.
If you'd like to see your name on this list, place your bets with us today and you could be next!
5. $590.5 million - Powerball, 2013
This jackpot was won with a single ticket, and it belonged to 84 year old grandma, Gloria MacKenzie from Florida. She opted for the lump sum cash payout of $370.8 million, but she almost didn't win it at all. A woman queuing for a lottery ticket kindly let Gloria go in front of her, where she took the lucky dip ticket that would have otherwise been given to the good samaritan. There's a lesson in there somewhere we're sure...
4. $648.0 million - Mega Millions, 2013
It seems 2013 was the year of giant jackpots, with this one split between two winning tickets bought in Georgia and California. Both winners chose the cash lump sum of $173 million each. Ira Curry claimed the prize instantly, whereas Steve Tran didn't realise for weeks that he had won. Upon eventually checking his winning ticket, he reportedly called his boss and said "I'm really sorry boss. I hit the jackpot. I don't think I'm going to come in today, tomorrow, or ever." Nice one, Steve!
3. $656.0 million - Mega Millions, 2012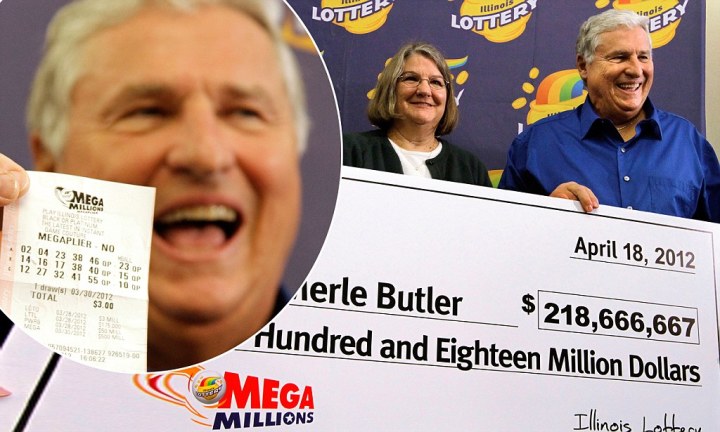 The third biggest lottery jackpot was another multi-winner, this time with three winning tickets bought in Illinois, Kansas and Maryland. The only winners to go public were retired couple Merle & Patricia Butler who went for the ever-popular cash lump sum, netting them a lovely $157.8 million. Merle checked the numbers as they were read out on the news, telling reporters that when his wife realised they'd won, she giggled for 4 hours straight. Tee hee!
2. $758.7 million - Powerball, 2017
Massachusetts resident, Mavis Wanczyk was the only one to beat the odds of 1 in 292.2 million and take home the cash lump sum of $480.5 million. According to mathematician professor Cornelius Nelan, this is "about the same as flipping a coin and having it land on heads 28 times in a row". Mavis seemed completely bowled over by her good fortune, saying that she wanted to spend her first night as a lottery jackpot winner hiding in her bed.
1. $1.6 billion - Powerball, 2016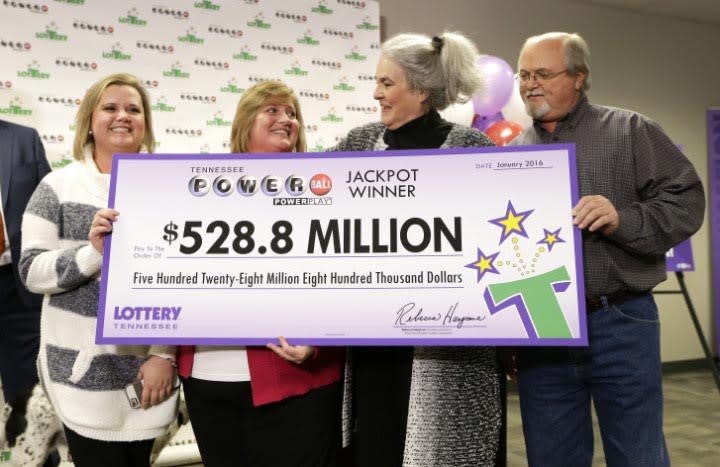 The biggest jackpot in history to have the potential of being paid out to one winner was ultimately split between three winning tickets bought in California, Florida, and Tennessee. One of the winners, a couple from California, took a full 6 months to claim their $327.8 million lump sum, choosing to lawyer-up and wrap their heads around their win before picking up the cheque. That restraint is to be admired, we'd have it all spent on castles and expensive kittens by then.
So now that we've blown your mind with these exhilarating jackpot wins, it's time to get involved. Bet on the Powerball, Mega Millions and more with us today - oh, and make sure to buy us an expensive kitten if you win.